A traditional WAN is a connection between branches, HQ, data centres and the cloud that connects all users and things to applications and data. As more business processes are digitised and new applications move into the cloud, the volume of data is rising, creating more complex network challenges, and inefficient and expensive WAN. This is where EBB SD-WAN come in.

Cost Savings
EBB SD-WAN can reduce the costs associated with traditional WAN networks, such as expensive MPLS circuits, by using lower-cost internet links to connect sites.

Simplified Network Management
EBB SD-WAN centralises network management and provides a single interface for configuring and managing network policies, security, and other functions. This reduces the need for manual configuration of individual network devices.

Improved Network Performance
By using techniques such as load balancing, Quality of Service (QoS), and traffic shaping to optimise network traffic, it can improve application performance, reduce latency, and ensure that critical applications receive the necessary bandwidth.

Increased Network Agility
EBB SD-WAN can enable businesses to rapidly deploy new sites and services, as well as adjust network policies and configurations in response to changing business needs.

Enhanced Network Security
EBB SD-WAN includes built-in security features such as encryption, firewalls, and intrusion detection and prevention. These help to protect the network against cyber threats and ensure that sensitive data is kept secure.

Support for Cloud-based Applications
EBB SD-WAN is designed to support cloud-based applications and services, providing reliable and secure connectivity to cloud environments.
Traditional WAN vs EBB SD-WAN
Branch traffic needs to backhaul to HQ/DC sites to access to cloud application causing a huge delay
Low visibility of key application performance
High interconnection cost. Since reliance on MPLS links
Long service provisioning period and manual deployment on additional services
Branch traffic direct access to cloud application reducing delay
Visibility of key applications for an optimised experience
Lower interconnection costs by using low-cost internet links
Fast Service Provisioning based on overlay network architecture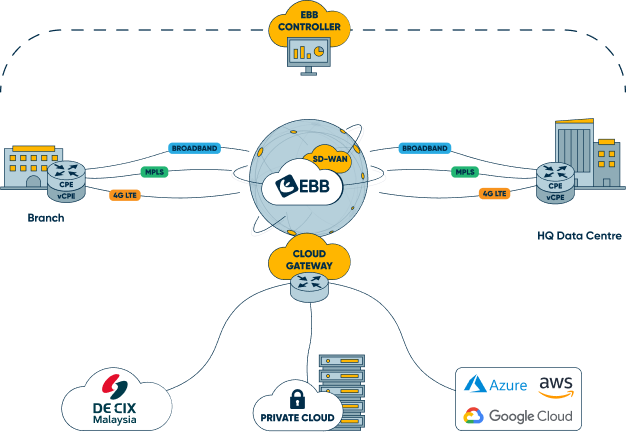 EBB Cloud-based SD-WAN solution simplifies operations and optimise network performance through a unified central management portal. Our solution provides better visibility and control of your network applications, applies policies to allow mission-critical applications and intelligently directs or steer traffic across the WAN. EBB SD-WAN provide seamless connectivity to the major cloud service provider and international internet exchange via our secure, high-performance unified connectivity fabric.

Fast Deployment & Easy Integration
Rolling out EBB SD-WAN sites is as simple as zero-touch provisioning which allows configuration automatically download by the new device via a single click from the orchestrator. The EBB team can easily integrate with your existing network, to deliver speed and reliability to branches and remote sites.

Enhanced Visibility & Simplified O&M
EBB SD-WAN portal comes with a dashboard that has complete real-time visibility on your network. It is a single-point monitoring system for business branches and it will increase operational efficiency for your IT team.

Simplify Branch Network and Improve Agility
EBB SD-WAN allows the branch network quickly adapt to changing needs of the business, we can insert network services and deploy new sites connectivity effortlessly on the branch edge, in the cloud or in the regional data centres.